Welcome to Bear River Mercantile at Bowron Lake
Where past, present, nature and the arts collide in one of B.C.'s top ten paddling destinations, beautiful Bowron Lake Provincial Park. Let Dick & Sandy Phillips at Bear River Mercantile, specialists in Bowron Lake adventure and history, be a part of your journey.


Bear River Mercantile, situated 1 km from the entrance to beautiful Bowron Lake Provincial Park, is a dynamic family-run business dedicated to making your visit as enjoyable and informative as possible. Your hosts, Dick and Sandy Phillips, have lived and worked in the area for over 40 years and provide a friendly, one-on-one service that is well known worldwide.

The Mercantile (adj: of or relating to merchants & trade)
The Mercantile is an eclectic little community store filled with a wide assortment of goodies. From shelf stable food stuffs for the hungry; outdoor supplies for the woodsman; art & craft supplies for the creative; novelties and gifts for the souvenir hunter, the Mercantile is the place to visit.

The Museum (a view into times long gone)
​BRM is home to the largest private collection of Bowron Lake history & memorabilia, along with informative interpretive displays. Our unique, little Bowron Lake Museum compliments your visit, helping you to better understand the area.
​
Eco-Friendly Cabins (off-grid & unplugged!)
​BRM offers three solar-powered cabins, two glamper units and a grassy field suitable for camping. Our third and largest cabin, the Kibbee Cabin is generally reserved for longer term rentals (three to 30 nights), but if it is empty we will put single nighters in it too. It is perfect for naturalists, authors & artists looking for a place to "refresh". BRM is 'off grid' and 'unconnected', providing an uninterruptable retreat!

​Boat Rentals​ (paddle powered only)
​Rental canoes & kayaks round off our services, opening up the backcountry for the week long paddler (out on the Famous Bowron Lake Chain of Lakes) or for our cabin occupants, who would like to enjoy a day on the lake.

Why is BRM so popular?
BRM operates a one on one, flexible service to it's reserved guests. BRM works with each guest, to provide a customized package that works best for them. With this in mind.... we get booked up well in advance! So be sure to book early if you would like to experience our friendly, flexible service.
---
What's New for 2020
1) BRM and Pathways Tours are celebrating a new relationship! BRM will now be supplying Pathways clients with accommodations and services before their tour dates. Because of this, there will be times when BRM will be closed to or have limited services for the general public, please look at the calendar on this site.
May 15, 2020 - BRM opens for the season
Sept 16th, 2020 Last Canoe rentals let out for the Season
Sept 24th 2020 - BRM Closes for the Season (all gear should be returned)
2) Our Cabins are currently undergoing some changes, so the cabin and bed configurations posted here-in may change without notice.
3) New payment policies for 2020 are as such: Non-refundable deposits are due at the time of booking and the remainder is due a minimum of three weeks prior your arrival at BRM. Please read our payment & cancellation policies found elsewhere on this site and on our booking confirmations.
4) Please be sure to check our Accommodations Calendar on the 'Our Services' page before inquiring about cabin rentals. Our quaint, country cabins tend to book up fast.
5) Have questions?? Please READ our whole website for gear descriptions, price lists & info about BRM and Bowron Lake Park! Like us at www.facebook.com/bowronlake for oodles of postings, pictures and stories about our life and times in this wonderfully natural retreat in Beautiful B.C.!
The best kept secret in the Cariboo! BRM has leased a section of its store to Cabin Fever Craft Supplies!
Attention all crafters, multi-media artists, card-makers, scrapbookers...CFC has papers, embossing folders, stamps, ephemera, heat emboss powders, inks, embellishments, jells, pastes and more! And best of all.... the items are priced FOR crafters BY crafters...who hate being taken to the cleaners to do something they love! Be sure to stop by and check out our stock of over 500 items with new goodies arriving weekly! If you can't drop in, visit our Online FB Store Site here
https://www.facebook.com/groups/CFCCraftSupplies
Important note: On site (at our counter) BRM and CFC operates as a Cash Only facility; we do not have the capabilities to accept Debit or Credit Cards (we are unplugged & loving every minute of it). Deposits for reservations must be made at the time of booking by E-Transfer, PayPal, Personal Cheque (North American Banks only) or Money Order. Full bookings must be paid two weeks before arrival by E-Transfer or PayPal (Cash payment by special arrangement) Please read our Policy Details on the Reservation Page.
​
---
How to Find Us
Bowron Lake is approximately 800 kms (500 miles) north of Vancouver B.C. and 120 kms (75 miles) east of Quesnel B.C. After making your way to Quesnel, travel east on highway 26 to the 1930's style, Artistic Community of Wells B.C. Continue through Wells and head towards Barkerville Historic Town. Before reaching Barkerville you will find the Bowron Lake turn-off. Bowron Lake is a further 28 kms (18 miles) at the end of the good gravel road. IMPORTANT: If coming from the Alberta side there is no through road between Highway 16 in the Robson Valley and Bowron Lake, despite what your GPS tells you!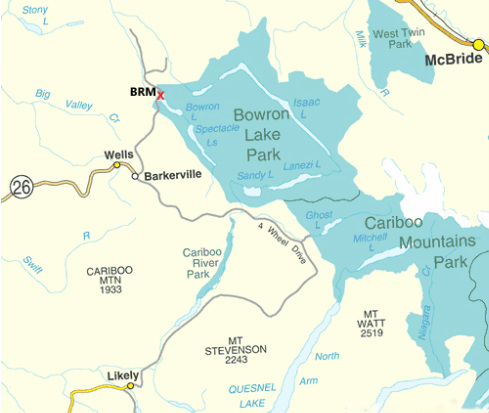 When you reach Bowron Lake, continue past Beckers & Bowron Lake Lodges, drive along the lake until you come to the Bowron (Bear) River Bridge. Bear River Mercantile is the next place on the right, after the Bridge. The first little driveway enters into the our Campground and the Kibbee Cabin. The next pull (parking lot) brings you to our main buildings, museum and store. The Bowron Lake Provincial Park Registration Centre and Kibbee Lake Trailhead are 1 more km past our door.