Please note: This is the current website (2016) for Bear River Mercantile! If you come across our old yellow website (which I am still trying to figure out how to take down) it is NOT VALID! Sorry for any confusion this is causing.
Where past and present collide in one of B.C.'s top ten paddling destinations, beautiful Bowron Lake Provincial Park. Let Dick & Sandy Phillips at Bear River Mercantile, specialists in both Bowron Lake adventure and history, be a part of your journey.
Bear River Mercantile, situated 1 km from the entrance to beautiful Bowron Lake Provincial Park, is a dynamic family-run business dedicated to making your visit as enjoyable and informative as possible. Your hosts, Dick and Sandy Phillips, have lived and worked in the area for over 40 years and provide a friendly, one-on-one service that is known worldwide.

Q: What Services are provided at Bear River Mercantile?
A: Cozy backcountry cabins, riverside camping, picnic area, small supply store, café services, canoe, kayak and paddling gear rentals.

Q: What attractions make Bear River Mercantile Stand Out?
A: BRM is home to the largest private collection of Bowron Lake history & memorabilia, along with informative interpretive displays, providing a unique little Bowron Lake Museum.


2016... Ongoing improvements to the Glamping Village and Tent Shelters - See the slideshow below and 'Our Services & Prices' page for more details!
Also.... looking for accommodation availability? Check out our accommodations calendar on the 'Our Services' page.
---
---
How to Find Us
Bowron Lake is approximately 800 kms (500 miles) north of Vancouver B.C. and 120 kms (75 miles) east of Quesnel B.C. After making your way to Quesnel, travel east on highway 26 to the 1930's town of Wells B.C. Continue past Wells and head towards Barkerville Historic Town. One km before you reach Barkerville you will find the Bowron Lake turn-off. Bowron Lake is a further 28 kms (18 miles) at the end of the good gravel road. IMPORTANT: If coming from the Alberta side there is no through road between Highway 16 in the Robson Valley and Bowron Lake, despite what your GPS says!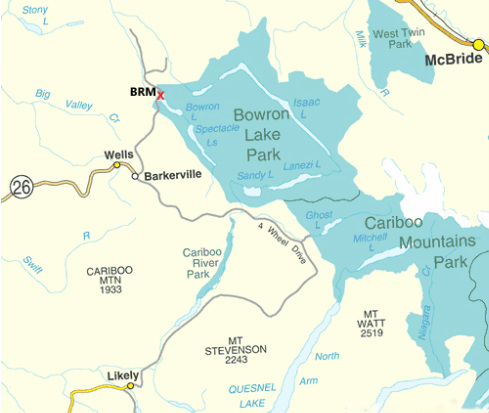 When you reach Bowron Lake continue past the first two lodges and follow along the lake until you come to the Bowron River Bridge. Bear River Mercantile is on the right hand side just beyond the Bridge. The B.C. Provincial Park Registration Centre and Kibbee Lake Trailhead is 1 more km past our door.